Essential Tips for Cleaning Your Floors
If you're interested in learning more about essential floor cleaning tips, you're in the right place! There's nothing like the feeling and look of a freshly cleaned floor. It kind of makes the whole room feel cleaner, doesn't it? Especially when you know that you have cleaned it AND sanitized it!
However, different types of flooring require different methods of care. For example, if you have vinyl plank flooring throughout your home or business, this will be very different than a home with primarily carpeting. Recognizing the differences in the type of flooring you have and the level of care needed is essential for cleaning your floors properly.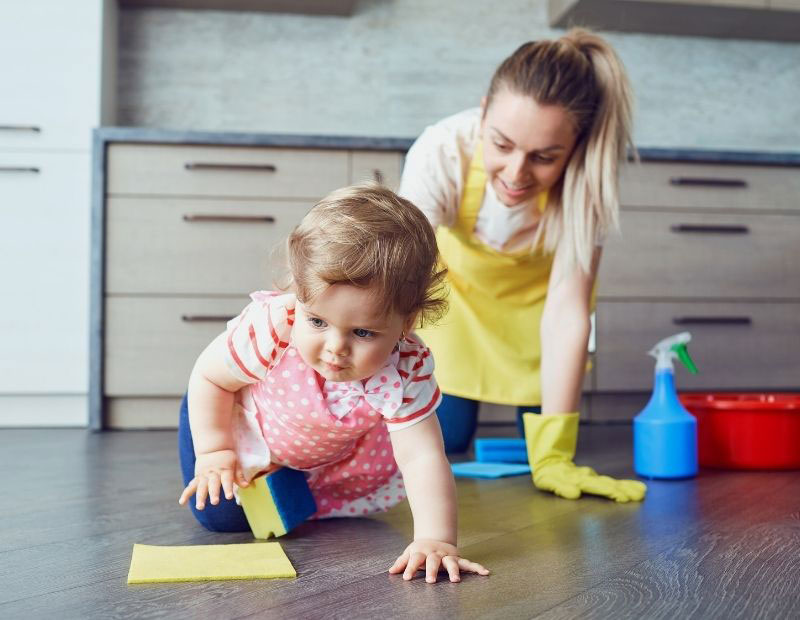 Here are some ways to make all that happen:
Round 1: Using a Broom
*Remove things from the room that can be moved easily (ex. A kitchen chair/high chair/rug/etc.).
*Go around the flooring area with the broom, making a dirt pile (or two) as you go.
*Get rid of that icky dirt pile with dust pan.
*An alternative to a broom, here, would be to use a Swiffer dry mop (or something similar to it).
*If possible, aim to use the broom or dry mop on your floor daily. Side note- if you are doing this by itself, let's say in between using a wet mop, then moving all of your furniture (as stated above) is optional, unless you want to do it that way.
*Get ready for round 2!
PRO TIP: Read these beginner mistakes for installing flooring if you are embarking on a flooring project!
Round 2: Using a Wet Mop
*You should aim to use the wet mop once a week.
*Prepare a bucket of hot soapy water. Mr. Clean's Multi-Surface Cleaner makes a great floor cleaner on many floors.
*Take your wet mop for a whirl. O-Cedar makes a great mop/bucket set. You can wash the mop head a couple of times before needing to replace it. Plus, there is a spinning mechanism to wring the mop before using- it is AMAZING!
*Get ready for round 3 (last round).
Round 3: Steam Mop
*This round is for a little extra sanitizing!
*Set up a steam mop (like the Shark Steam Pocket Mop Hard Floor Cleaner with Swivel Steering XL Water Tank). This normally just takes a bit of water and a plug into the wall. It takes about 30 seconds to heat- and the water inside does get HOT! Also AMAZING!
*Swivel this mop around your floor for one last go.
PRO TIP: Read this great article on what flooring is best for pets! Combine ideas during your cleaning routine and you'll have the most success!
Floor Cleaner Recipes:
Let's say that you are out of floor cleaner… and so is the store! Or, you prefer a greener way to clean. Then, give one (or all) of these mixtures a try!
1 gallon of hot water
¾ cup of olive oil
½ cup of lemon juice
Go ahead and mop as usual. Let it air dry and you're good to go!
Olive oil will bring out the wood's shine, and the lemon juice (and hot water) will clean your floor.
2 cups of hot water
2 cups of vinegar
5-10 drops of essential oil (your choice which one- orange and lemon are great cleaning choices, although)
Mop as usual. This one can air dry, too!
The vinegar and hot water do the hard work, while the essential oil makes the room smell clean- definitely a bonus to doing all that hard work.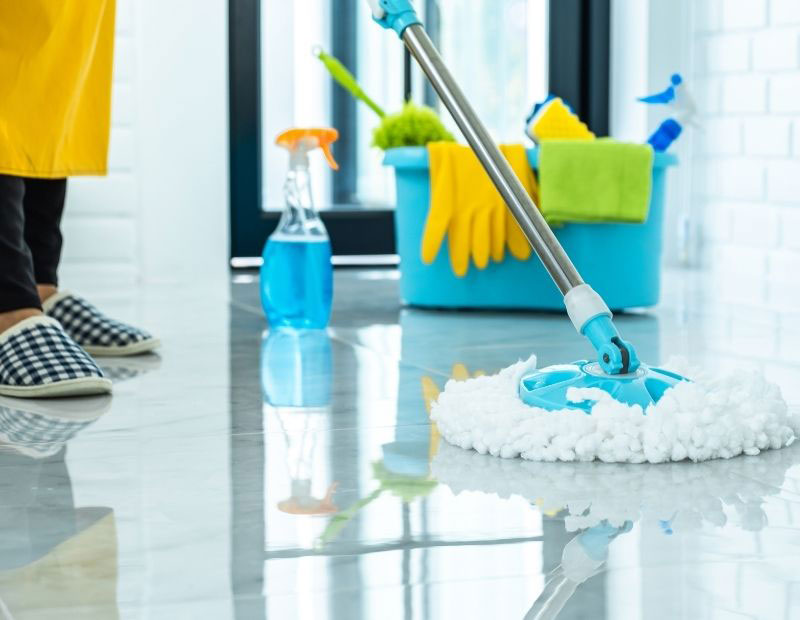 For ANY floor, try this:
½ cup of warm water
½ cup of liquid dish soap
1 23 cups of baking soda
2 tablespoons of distilled white vinegar
You need to stir the mixture until the baking soda has dissolved. This one can work on a wide variety of floors, but it will need a rinse, when done. Just take a spray bottle and spray the floor with the solution, and use the mop to rinse. Doing this will prevent streaks… and no one wants that on their clean floor!
Another way to get your floors clean is using a vacuum. That's right! A vacuum. Some vacuums even have a "hard floor" setting. Go check yours- you just might have one, too!
PRO TIP: Are you wondering about flooring and how to choose? Let Flooring Pros of Augusta Georgia help make the process easier!
Conclusion:
You have this beautiful floor and you want to keep it clean. No matter the reason- babies crawling, company coming, a birthday party, or just because you want it that way (nothing wrong with this)- you deserve a clean floor! This is definitely achievable using the essential tips for cleaning your floor as listed above.
It is also important to take good care of your floor. After all, your floor works hard for you day in and day out! Not to mention that taking care of your floor will make it last longer and keep it from looking dull and dingy. Take note of which kind of cleaner you are using for your floor. Some cleaners are good for a wide array of floors, while other cleaners are more specific and do a better job on some floors than others. Cleaning your floor and doing it the right away are the recipe for keeping your floor looking great for a long, long time. After all, that is the end game here, isn't it?
When you choose Augusta's Flooring Pros, you can rest assured we will give you all the information you need regarding caring for and maintaining your floors. We offer many different products in addition to floor installation of all types and can't wait to help you with your project.
You can contact us on this page here or you can simply stop by our showroom. Our address is 246 Bobby Jones Expy suite A2, Augusta, GA 30907 and you can take a look at our address on Google maps if you want to take a drive and stop in to say hi.
We hope you have learned a lot about some important and essential floor cleaning tips and look forward to getting your call!