Beginner Mistakes For Installing Flooring
Are you curious about beginner mistakes for installing flooring? This post will explain everything you need to know. Read on to learn all about the beginner mistakes you need to avoid on your next flooring project.
Mistakes All Beginners Make While Installing Flooring
We've all tried home improvement projects ourselves. It looks so easy when you watch other people do it, so why can't we? Well, usually they're pretty good at what they do, which is why it looks so easy. Then we try it and find out it really isn't so simple. That's why people trust Flooring Pros in Augustus, GA for floor installation. We are the absolute best choice rather than doing it on your on!
Whether it's carpet, laminate, vinyl plank flooring or hardwood, there are many different types of floors and even more ways to fit them. Special tools and skills are often required, though surely we can do it from watching videos of other people doing it? Well, not always! So here are the top 10 mistakes that all beginners make when installing flooring.
#1 – Measure Once Cut Twice
Many of us know the saying, "measure twice, cut once", though even if you follow that rule, it doesn't always go to plan. There are a lot of things to consider when cutting flooring.
The shape of a room isn't always as straight as it looks, plus with doorways, trim and fixtures it might not be quite as easy as you think to get a good fit, without leaving large, uneven, gaps either end.
#2 – Forgetting Underneath
Any good floor needs an underlay, something to make it feel nice to walk on, protect the floor and keep it nice and level without feeling like you're walking on a trampoline. This often gets overlooked, or the cheapest underlay used that really doesn't doe what it's supposed to.
#3 – No Room To Move
Any hardwood or laminate flooring needs space. As they absorb moisture or settle in the room, tiny gaps left by amateurs leave the floor with nowhere to go but up! This causes the floor to buckle over time and gaps to not stay uniform, leaving your beautiful new floor looking sorry.
#4 – Not Keeping It Sharp
Whatever flooring your laying, it needs the right tools. Whether your cutting the edges of carpet or sawing hardwood, if you've not got the right tools and a nice sharp blade, you're likely to leave the edges looking rough, which doesn't look good after you've spent all day laying it.
#5 – A Little Bit Damp
All buildings have a level of moisture in them, so if you don't plan properly then you can get moisture trapped under your floor, causing it to absorb that and start to buckle and bow. Professionals know when to use a vapor barrier and when not to, which is something you can't always see on the internet.
#6 – Under Or Around
When installing flooring in a kitchen or a bathroom, you'll have cabinets and other fixtures to avoid. Sometimes these are laid on top of a floor and sometimes they're gone around. Beginners often get this wrong, causing the floor to become uneven and bowed and a nightmare to change later.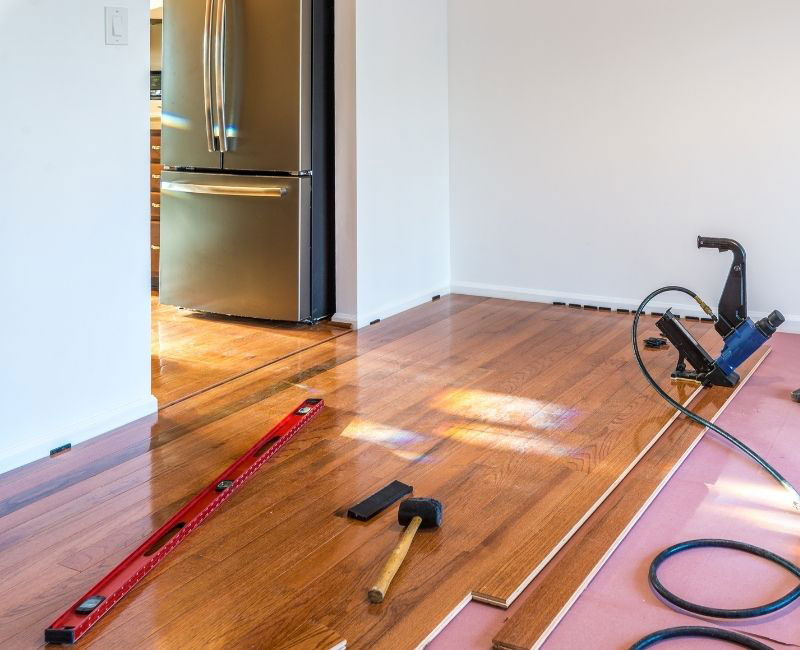 #7 – Not Quite Flat
The one thing a good floor should be, is flat. Sounds simple, doesn't it? Well it's not always the case. You need to make sure your underlay and gaps are planned and that everything is fitted together nicely, to ensure that everything remains flat. Even if it looks good on day one, it might not stay that way!
#8 – Wrong Place
Different floors suit different locations, you really wouldn't want a wool carpet in the shower. Knowing what floor type to use and where is something that catches many beginners out. The different types of underlay on different substrates cause different effects, which can't always be predicted. 
#9 – Never Quite Finished
Many home improvement projects never quite get to 100%. They get to "close enough". This means that they look okay from afar, though when it comes time to sell your home or host a lot of people, suddenly, it's a huge problem. One that you don't want to have to face and lay it again.
#10 – Not Using the Flooring Pros
Not using the experts, such as us at Flooring Pros in Augustus, GA is definitely a big beginner mistake. Why waste your time and money with floor installation when you could get Flooring Pros to do all of the hard work and get an expert to make sure your floor not only looks good but lasts for many years.
Leave It To The Pros – Flooring Pros!
It's not quite as easy as the internet might have you believe, especially if you've never done it before. So why risk having to do the job twice, costing you more time and expense? You don't have to. You can trust Flooring Pros in Augustus, GA to install your new flooring quickly and professionally, whatever your budget. 
So give us a call today for a free quote, we'll remove the stress and you can enjoy your new flooring without the stress. We guarantee you'll be satisfied. So don't make beginner mistakes when installing your new flooring, trust Flooring Pros.