Vinyl Flooring Augusta GA
100% Waterproof Vinyl Plank Flooring
For best waterproof vinyl flooring Augusta GA, choose us! Flooring Pros specializes in waterproof vinyl plank flooring. We offer a wide selection for any budget.
We're an Augusta flooring store that is focused on customer satisfaction. Our expert flooring installation team will install your floors the right way.
We provide a one-year installation warranty to give you peace of mind.  Even if you bought your floors from somewhere else, we'll install it.
Our Popular Vinyl Plank Flooring
100% waterproof vinyl plank flooring is definitely our biggest seller and for good reasons.  With the advancement of technology, it has been the fastest growing flooring of choice.  There is no mess this type of flooring cannot handle. 
100% Waterproof Flooring is both kid-friendly and pet-friendly with its moisture-absorbing material, down to its core. There is no need to worry about warped paneling or expansion.  There is no spill or stain that will ruin the look of your floor!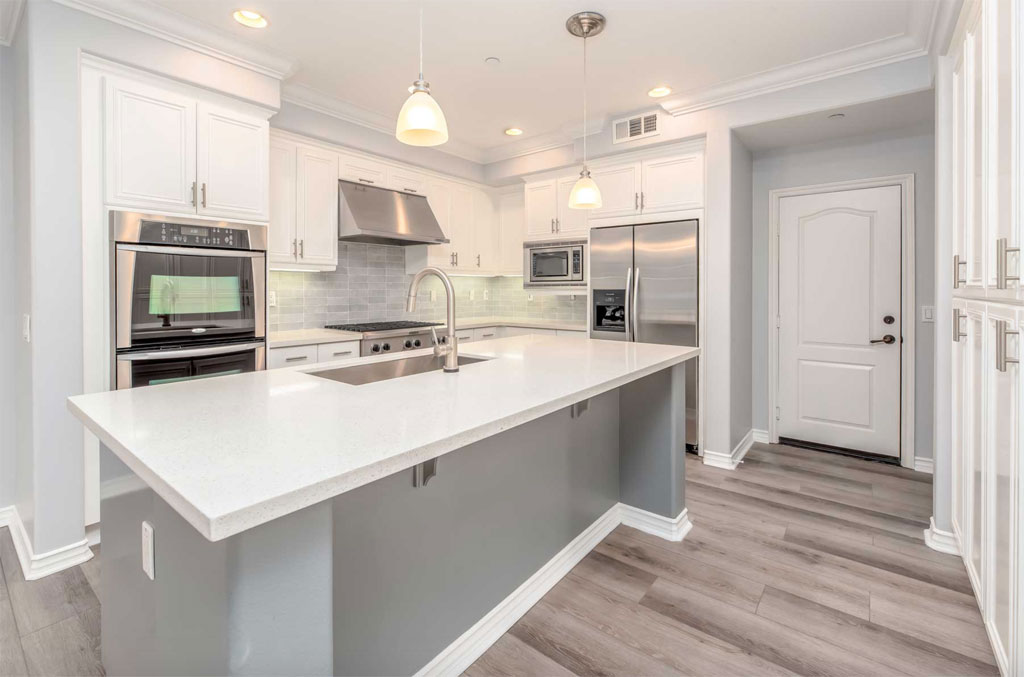 Diverse Selection Of Vinyl Plank Flooring
Flooring Pros carry the following type of vinyl planks:
Stone Polymer Composite (SPC)

Wood Plastic Composite (WPC)

Luxury Vinyl Plank (LVP)

Luxury Vinyl Tile (LVT)

Engineered Vinyl Plank (EVP)
Frequently Asked Questions
Where can waterproof vinyl plank floors be installed?
Because it is such a versatile type of flooring, 100% waterproof vinyl planks can be installed in most rooms of your house.  Anywhere there is water and moisture is where you want 100% Waterproof Flooring.  And Augusta GA's Flooring Pros are just the team to do it!
The three most ideal rooms for waterproof flooring are the bathroom, kitchen, and basement.  These rooms are the most common places where water is prevalent.  In the bathroom, water is consistently used throughout the week from the shower, sink, and toilet.  In the kitchen, cooking and eating takes place every day.
How to install vinyl plank flooring?
Vinyl plank floors are typically considered floating floors. They come in planks and can be laid right on top of your sub-floor.
Depending on what type of backing you choose, you can use the glue-down method or the peel-and-stick option.
Flooring Pros provide a one-year installation warranty to give you peace of mind. 
You can check out our installation services by clicking here.
Can I install waterproof floors in the basement?
High moisture areas such as basements are also an ideal place to install this waterproof vinyl planks.

Whether your basement finished or unfinished, those humid conditions can encourage the growth of mold, mildew and other bacteria. This is why we most turn to 100% waterproof flooring for basements.
What other types of flooring do you offer?
Augusta GA Flooring Pros offers a comprehensive range of services and offerings.  Besides just our popular vinyl plank flooring, we also offer hardwood flooring, tile, carpet, laminate and much more.  You can simply stop by our location or give us a call for questions regarding our services.  We are located at 246 Bobby Jones Expy suite A2, Augusta, GA 30907 and look forward to hearing from you!
What are the advantageous vs disadvantages of waterproof vinyl plank flooring?
Pros of waterproof vinyl plank flooring
100% waterproof
Easy to maintain and clean
Cost-effective
Easy installation compared to other flooring options
Can be installed in most rooms of the house
Cons of waterproof vinyl plank flooring
Cannot be sanded or refinished
Have additional questions? Please contact us at anytime.
Choose Flooring Pros for Vinyl Flooring Augusta GA!