Engineered wood flooring Augusta GA
Best engineered hardwood flooring Augusta, GA. Flooring Pros specializes in engineered hardwood flooring as well as a variety of other flooring materials that are both high quality and extremely affordable.
We're an Augusta flooring store that is focused on customer satisfaction. Our expert flooring installation team will install your floors the right way.
We provide a one-year installation warranty to give you peace of mind. Even if you bought your floors from somewhere else, we'll install it.
Call us today for a free estimate on engineered wood flooring Augusta GA.
Engineered Wood Flooring From Augusta Flooring Pros
Engineered wood flooring from Augusta flooring store, Flooring Pros is made of exceptional quality and is highly affordable.  This type of material is an excellent alternative to solid hardwood flooring.
Some people may ask, "is engineered wood real wood?" This is a good question because it consists of a thin layer of hardwood on its surface which imitates the hardwood (real wood) look, for less of the price, with a lower-quality wood underneath.
The installation process is a breeze with Engineered Wood as it is sold sanded, sealed, and stained. Once the flooring is laid, it is ready for use!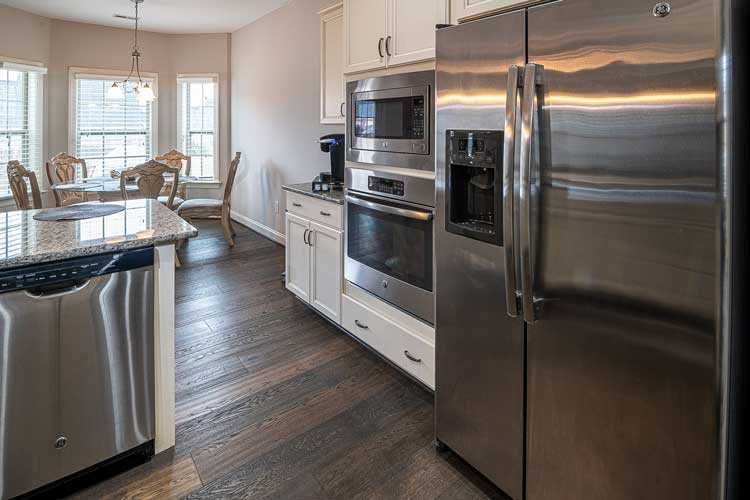 Why Choose Engineered Wood Flooring
Engineered wood flooring is a great choice for anyone.  Whether you're a commercial establishment looking for a versatile, affordable and easy to maintain type of flooring or whether you are a residential client who knows of the many benefits of engineered wood it really doesn't matter.  Whatever your needs, manufactured or man-made wood is a great choice and can meet any of your requirements.
When you choose Augusta Georgia's Flooring Pros for engineered wood, you can rest assured that you are getting quality at an affordable price.  Learn more about the many benefits of engineered wood below!
Frequently Asked Questions
Where can engineered hardwood floors be installed?
Engineered hardwood floors are beautiful to look at. This type of flooring is commonly installed in entryways, living rooms, hallways, dens, bedrooms, office spaces, or areas that do not have high moisture.
If you ask anyone from our Augusta based flooring store, you will realize that engineered wood is a great choice that is versatile, affordable and easy to maintain!
How to install engineered hardwood flooring?
We recommend installing engineered hardwood flooring by using the glue-down method.  However, you should install flooring at your own risk. While people who are handy and have previous experience with similar tasks might be able to handle floor installation, it certainly isn't for everyone!
Flooring Pros provide a one-year installation warranty to give you peace of mind.  We understand that purchasing and installing flooring is a big deal and should last a very long time.  We are here to make the process easier.
You can check out our installation services by clicking here.
What is the difference between solid hardwood and engineered hardwood?
Solid hardwood is one single plank of hardwood throughout.  It is composed of different types of wood such as oak, walnut, maple, or more. Solid hardwood is a beautiful choice if you want a classic look that brings tradition and quality together for the perfect flooring type.
Engineered wood from Augusta Flooring Pros is also an excellent choice.  Engineered wood is a versatile flooring type that has a top layer of real wood and the bottom layer may be composed of high quality plywood.  Other names for engineered hardwood include man-made wood, composite wood and manufactured board.  If you're interested in contacting Flooring Pros and learning more, we encourage you to reach out and give us a call.
What are the advantageous vs disadvantages of engineered hardwood?
Cost-effective
Less expensive than solid hardwood
Compliments any room
Cons of engineered flooring
Not waterproof
Contains lower-quality wood underneath
Installation is more expensive compared to floating floors.
Questions about engineered wood flooring? Contact our Georgia store anytime!
Choose Flooring Pros for engineered wood flooring Augusta GA!