Flooring Where To Buy It And What You Need To Know
If you're wondering where to buy flooring, this post will give you some helpful tips and pointers. Here, you'll learn all about flooring- where you should purchase it and what you need to know. So let's get right to it!
Who doesn't love a fresh new floor in their home or business? Installing new flooring in your property changes a room in a way that new paint or furniture just can't do on their own. There are a ton of options when deciding on flooring installation and flooring for a remodel. Whatever your style and budget can handle, there is a floor for you. 
So, you have decided it is time for a change and have even determined what type of flooring you want. Now what? Your purchasing options can be just as varied as your choice of flooring. In this article, we will take a look at the different purchase options open to you and what makes the most sense for your project. 
PRO TIP: Another helpful thing you can do when narrowing down stores is to find out what products they specialize in. You can read these two articles to help you pick a store: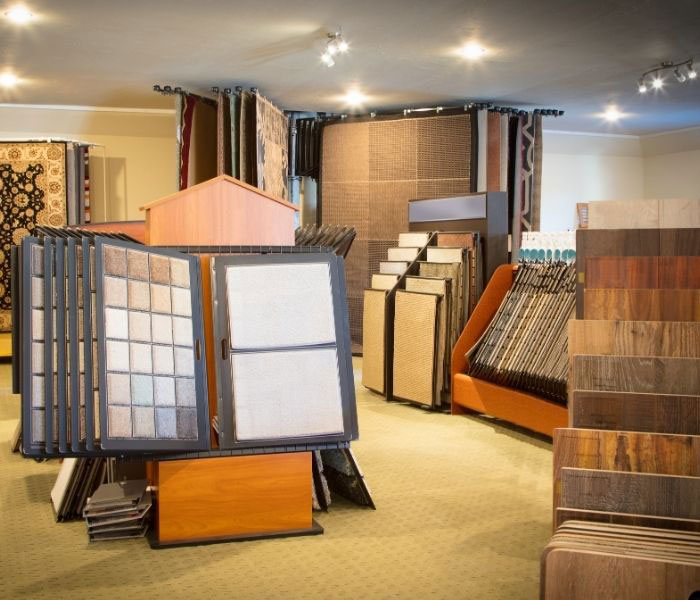 Types of Flooring Stores
It can be overwhelming when looking for the best place to purchase your flooring. One of our favorite stores if you are in Augusta, GA is Flooring Pros. Flooring Pros is a great place for trusted and affordable flooring Augusta GA, but if you're not in the area you are free to use this guide to help you narrow down stores.
Here are a few types of stores to make your selection. 
Large Chain Stores: These stores are well known in each city and include big box stores, such as Lowes and The Home Depot. 
Discount Flooring Stores: These facilities are common in major cities around the U.S. and focus on selling flooring at a discount. 
Online Stores: Purchasing flooring online is becoming more common. The buyer simply orders from the pictures and sizes provided on the site, and flooring is delivered. 
Locally Owned Flooring Suppliers: These usually privately owned stores serve the communities in which their owners and employees live. 
Now that we know what types of stores are out there let's dig deeper and find out which is the best when purchasing flooring. Here are the attributes to look for choosing a store that best meets your needs.
What To Look For In The Company You Choose For Your Floors
1. Established: Is the marketplace you are purchasing from an established business or a short term vendor? It is essential to find a flooring company, whether brick and mortar or online, that has established itself in your community. Trust is vital to customers, and dealing with a company doing business in your area says a lot about how your community feels about them. 
Reputable flooring stores, such as Augusta Georgia's Flooring Pros, have made a great name in the business of flooring products and installation. If you are located in Georgia you should certainly reach out to them and get a free quote on services and products.
2. Prices: No, pricing is not everything that goes into a decision to purchase flooring, but it is a critical component. The store you choose to purchase from should have the ability to buy the product in bulk from manufacturers to pass on saving to you.
3. Choices: Having a large selection of options is key when shopping for flooring. Even if you have decided what type of flooring you want there are micro categories of each. If you are having your home or business remodeled to last for the next few years, don't limit yourself to a few options. You will have to work or live with the choices you are offered.
4. Personalized Service: When we only look at prices and choices of types without personalized service, we may be hurting ourselves in the long run. Picking a color of carpet or a style of hardwood we fall in love with on the shelve is not enough. How hard is the installation? Have other customers found this flooring type to last?
These are all questions a store with personalized service will not have any issue answering for you. Big box and online stores usually won't be able to give you this type of service.
5. Offer the Latest Designs: Again, pricing is important, but if an item is cheap only because it is out of style, it does not do a home or business owner much good when replacing a floor. Make sure the store you are purchasing from has all of the latest flooring designs to choose from. 
Products such as vinyl plank flooring and hardwood flooring will probably never go out of style. However, quality is key when picking out the right products. So assessing the quality, style and price is a huge thing to help you choose a store.
In addition, one reason large discount chains are cheaper is that they purchase outdated flooring at a discount and claim to pass on the saving to you. It is better to find a store that buys the latest styles in bulk to give you the best prices. 
6. Shop Local: There are several reasons to find a local company to purchase your flooring needs from.
Shopping locally has a trust factor built-in. When the local store employees speak to you, they know you are their neighbors and friends. Giving you the correct information on flooring keeps you coming back.
Most stores have teams who install the flooring you choose into your home or business. It makes more sense to use local stores with local installers whom they have built a trusting relationship with. If a team of installers has worked locally for many years, chances are they can be trusted.
The best thing about shopping locally is keeping the money you spend inside your own community. Big chain and internet stores send your hard-earned money to another community where they will benefit from it.
7. Availability: Having someone to speak with about installs and issues you run into is important. A person you can discuss these problems in person is even better. We all know things will arise that will occasionally need to be addressed with a store we make purchases. By shopping using a local flooring company for your purchases, you will have access to a real person to work out any differences.
8. Free Estimate & Consultation: Be sure to choose a store that offers a free estimate and consultation on the best flooring for your needs. Having a professional discuss your needs and solutions with you can save you a great deal of trouble in the end. You may find you can spend money on better quality flooring while saving money on installation or determine your original idea wasn't the best. Whichever you choose, having a professional to help you decide the best way to proceed is something you should look at when determining where to buy. 
Conclusion
Now that you understand the best way to shop for flooring come see us or contact Flooring Pros in Augusta, Georgia, for your floor remodeling needs. We are conveniently located at 246 Bobby Jones Expy suite A2, Augusta, GA 30907. You can see our location at this link here if you want to make the trip and visit us.
We have a great selection of material for your home or business, and our staff will make sure you choose the right product for both. Contact us today for a free estimate of your needs. 
We hope this post has outlined where to buy flooring and wish you the best with your project.