Will Hardwood Flooring Increase My Home's Value?
Many people often wonder, "does hardwood flooring increase a home's value?". In this post, we will try to answer your question. In addition, we will explain how installing hardwood flooring may (or may not) change the value of your home.
Selling A Home Can Be Confusing!
Selling your home can add stress to anyone's life. Establishing the right price, finding a qualified buyer, passing inspection, and hoping that everything goes well through closing, will take a toll on your family's lives. 
When starting the selling process, one of the first recommendations from any realtor is to upgrade your home to add sale value and receive a higher price. One of the most recommended options suggested is to have your flooring replaced with hardwood floors if your home does not already have them installed.
This brings to mind a few questions. For one, why do realtors recommend installing hardwood floors? And how exactly will installing hardwood flooring add value to your home?
Let's explore this question more in-depth!
What is Hardwood Flooring?
Before we take on the return on investment of hardwood flooring, let's make sure everyone understands just what it means to have hardwood flooring installed.
Since the 1600s, hardwood floors have been popular within homes across the globe. Today the love of this natural flooring is cherished just as much by homeowners.
Hardwood comes from trees such as oak, ash, maple, and other hardwood type trees. These types of trees are in contrast to softwood trees like pine, spruce, and others. Hardwoods, as you may have guessed a tighter structure that makes the wood much more durable. 
Flooring Choices
If you are familiar with the different floors available for homes, you know there is a wide variety to choose from. For those that do not, here are a few examples of the different products out there.
Ceramic Tile
Natural Stone
Hardwood Flooring
Carpet
Vinyl Sheets
Porcelain Tile
Linoleum
& More
While all of these flooring choices are popular for their own reasons, such as cost, appeal, durability, and others that all serve within households all over the country.
Carpets, for instance, are popular anywhere in a home where people don't want to walk on cold floors, such as in bedrooms. Linoleum and laminate floors are used for cost savings in lieu of tile and hardwood.
Hardwood Floors Compared to Other Types
While it makes sense to use linoleums and carpet in rental homes for ease of durability and a low cost to replace, they are not the best suited to give you a good return on investment when selling your home. 
Flooring made of tile and natural stone is expensive and can be quite beautiful, but doesn't always make it easy to change the design around it. For instance, ceramic tiles with blues and greens give the new owner a limited selection of design changes to a room without changing the tile out.
Hardwood, on the other hand, allows for many different designs to happen around it. Even hardwood that has been stained dark can be sanded, stained a lighter color, left natural, or painted.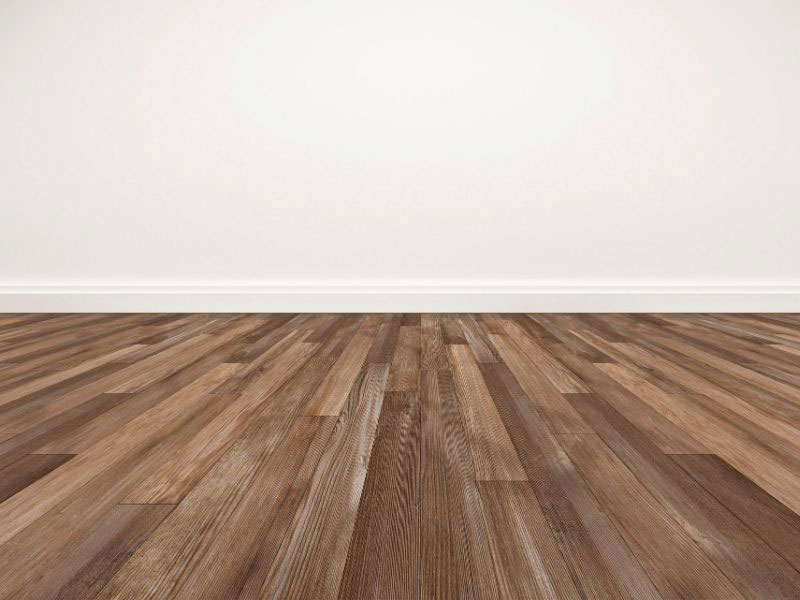 Benefits Of Hardwood Flooring
People Want Natural Products
We live in a time when everyone is looking for natural products around us. While flooring and other things in our homes can be made to look natural, they are usually made with chemicals. On the other hand, Hardwood is as natural as you can get as far as home products go.
Currently, people with children are more prone to trust natural products over those manufactured from resins or oils. Hardwood inevitably becomes a good choice for those who will have kids crawling across and playing on floors for the next few years of their lives.
Easy to Maintain
Another benefit people are looking for in a new home is how easy it is to maintain. With busy lives to lead, most people don't need or want something that is difficult to maintain or that they have to hire a cleaning crew to take care of.
Natural Hardwood floors are easy to clean and stain-resistant to spills. When a protective layer is added for enhancement, taking care of a hardwood floor can be as simple as the occasional sweeping to remove dust.
Durable to traffic and with a hardwood floor needing the occasional refinishing about every 10 years, they can last well over 100 years. 
Return On Investment
With all of the benefits of having a hardwood floor installed in a home, it is no wonder why adding it to your home can enhance the value of the selling price. In many cases having hardwood floors installed over other flooring types will increase your resale value up to 5 percent of the total sale price.
With the cost of installing hardwood floors much less than the 5 percent extra you'll make on the sale of your home, you can see why realtors recommend adding this type of floor before placing your home on the market.
For those who are thinking of selling their home or trying to decide what type of floors you want in your home, you can see that hardwood floors make sense. Connecting with a flooring provider that has experience in working with realtors and real estate investors also makes sense. Companies such as Flooring Pros, located in Augusta Georgia and servicing the CSRA area, is an excellent choice when upgrading your home and putting it on the market. Their team of professionals has a lot of experience and understands the simple ways you can add value to your home.
You should now have the answer to the question does hardwood flooring increase a home's value and feel satisfied in choosing hardwood floors!