Find Out Why Hardwood Flooring Is A Perfect Choice!
People all over are finally figuring out why hardwood flooring is perfect for the entire house. Flooring selection is an age-old question that is essential for those purchasing new properties, renting, or renovating. While there are handfuls of different flooring styles, and even more now with Do-It-Yourself innovators, there are three most common flooring styles.
Those styles are hardwood, carpet flooring, and tile. There are also products which mimic hardwood flooring and are also great choices. Some of these include vinyl plank flooring, laminate, and many others.
While each and every one has its own redeeming qualities, hardwood flooring is the only one that is completely versatile. Here are a few reasons to choose hardwood flooring during your next renovation.
Top Reasons To Choose Hardwood Flooring
Here are a few reasons why hardwood flooring is perfect for the entire house. Read on to learn more!
Hardwood Flooring Is Gorgeous
Hardwood floors can look immaculate with any home decor. Unlike carpet and tile, a hardwood floor will not look out of place in any room. Hardwood flooring provides a refined look while staying subtle. Tile and carpet can be overwhelming. Hardwood flooring is very simplistic, rustic, and beautifully pleasing to the eyes. Hardwood flooring is available in a multitude of colors and finishes that will leave any home uplifted.
Carpeting and tile have so many options that it can become a mess, and you may ultimately decide on one that you later change your mind on. While carpeting may be easy to replace, tile is less forgiving. Either way, choosing one of these two options may leave you doubting your decision with age.
Maintaining A Clean Home Is Easy With A Hardwood Floor
Hardwood flooring is the most conducive flooring to a busy household. With a smooth finish and solid plane, cleaning the surface of hardwood flooring is a breeze. Tile and all of its grout make for a challenging chore come time to sweep or vacuum. Getting in between those tiles is a nightmare. Carpeting is no better. Many people imagine vacuuming a carpet is an easy task, and it is, but you will never be able to deeply penetrate the surface in order to pick up everything it traps.
Read this post on how to prep for hardwood floor installation.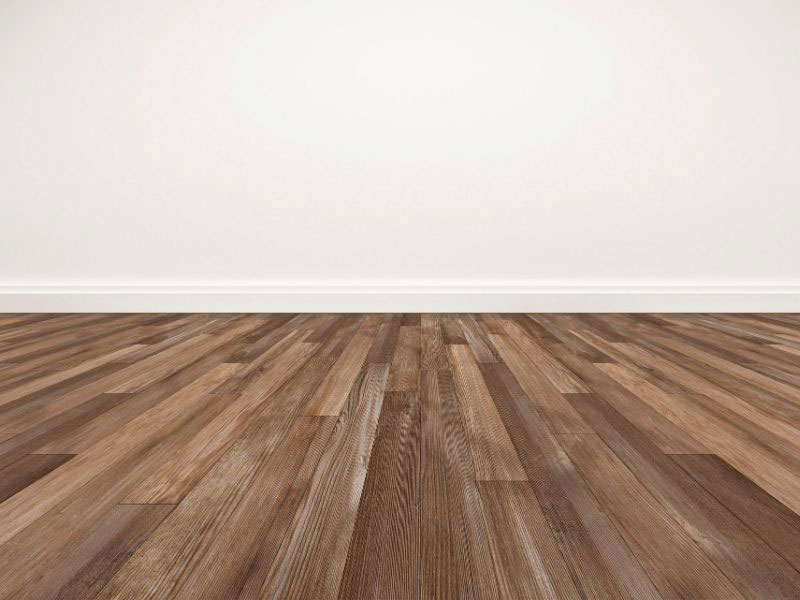 Avoid Trapping Allergins And Dirt, Like You Would With Carpet
Carpeting is a nightmare. As someone with asthma, I can tell you that switching to a hardwood floor was the best decision I ever made. Carpet is notorious for trapping dirt, dust, and common household allergens that trigger and challenge peoples' immune systems. As stated before, vacuuming carpeting may seem easy, but to do it efficiently is out of reach for most homeowners. Deep cleaning a carpet requires professional cleaning equipment to really rid your house of all of its' entrapping.
With hardwood floors, cleaning your house is as easy as running a Swiffer over the surface or having a hard surface vacuum. Because hardwood flooring is impermeable, you won't have to worry about a penetrating clean.
Hardwood Floor Is Durable
Hardwood flooring is some of the most durable flooring available. The way hardwood flooring is laid ensures that it will not peel up, split, or splinter. Tile is less forgiving. Homeowners with tile have to be careful not to crack or chip the ceramic or porcelain material the floor is made of. On top of the tile itself, the grout between the tiles is just as fragile. As tile flooring ages, homeowners must be aware of the possibility of regrouting in case it begins to chip away. Carpeting, although easy to replace, is susceptible to tears. Meaning extra attention must be given when reorganizing or moving furniture around the house.
No More Worrying Fading Colors Or Permanent Indents
Hardwood flooring will hold its appearance as much as it holds itself together. Hardwood flooring is solid and can support any furniture it is given. Carpeting, on the other hand, is malleable and will give way to pressure. When moving furniture, homeowners with carpeting are often are left with circles and squares where the feet of furniture once laid. With hardwood flooring, you can freely reorganize your living space without the fear of leaving footprints behind.
Refinish Instead Of Replace
Hardwood flooring is extremely durable. In the event you do damage or want to replace it, keep in mind that refinishing is always an option. Hardwood flooring is a financially efficient choice in homes because it allows homeowners to easily repair damages or change the appearance while keeping the floor itself. Unlike carpeting and tiling which would require you to take up the whole floor, hardwood flooring is forgiving. If hardwood flooring becomes damaged, it can be sanded and refinished or pulled up and replaced. Refinishing hardwood flooring would also allow you to darken and lighten your floors as you see fit.
Do You Believe Me Yet?
Hardwood flooring is an absolute dream to look at and take care of. Its durability and versatility make it one of the most cost-efficient flooring options available. Unlike carpeting and tile, hardwood flooring is easy to maintain, gives you the option to refinish, and looks timeless.
Flooring Pros of Augusta, GA is a flooring store that both sells and installs hardwood flooring. In addition, they offer a variety of products you can learn all about on this page here.
These are just a few of the reasons why hardwood flooring is perfect for the entire house.