Best solid hardwood flooring store in Augusta, Ga.  Flooring Pros specializes in solid hardwood flooring. We carry unfinished, prefinished, heart-pine, reclaimed, rustic, and more.
We're an Augusta flooring store that is focused on customer satisfaction.  Our expert flooring installation team will install your floors the right way.
We provide a one-year installation warranty to give you peace of mind.
If you want a classic look for any room in the house, hardwood flooring will provide a timeless accent to any area.
When it comes to hardwood flooring there are many different species of wood.  Solid hardwood provides a long-lasting product with a classic presentation.
Hardwood panels offer unique designs, engraved by the natural world. This feature gives an organic vibe to any floor plan.
Hardwood is a popular choice because it is versatile with any type of paint, furniture, or room style.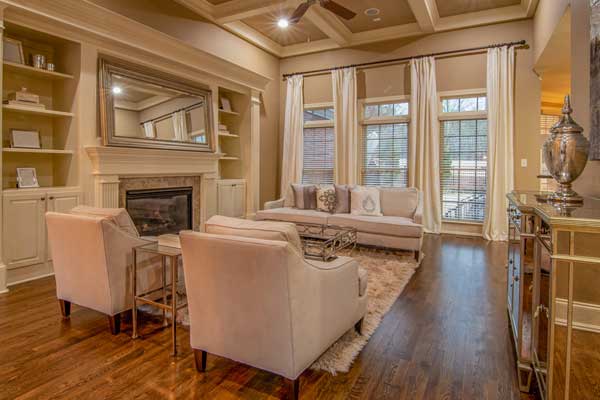 Frequently Asked Questions
Where should hardwood floors be installed?
Hardwood floors can bring warmth to any room. This floor type is perfect for a large open concept to make it cozy and feel welcoming. It is great for a bedroom too, to make it feel comforting and peaceful. Hardwood floors are wonderful for living rooms with a lot of foot traffic and with its resistance to spills, there is no need to fear floor stains.
Since wood is more susceptible to water damage, we do not recommend installing it in high moisture areas such as bathrooms, kitchens, or basements.
For high moisture areas, we recommend going with tile, waterproof vinyl planks, or sheet vinyl.
How should hardwood floors be installed?
To install hardwood flooring, a nail gun or staple gun is required. Because this flooring type is a denser selection of wood, you will need a strong fastener to penetrate through the wood planks and secure them in place to avoid hardwood floor buckling.
We provide a one-year installation warranty.  With Flooring Pros you can trust us to get your flooring done right.
You can check out our installation services here.
What are the advantageous vs disadvantages of hardwood flooring?
Pros of hardwood flooring
Offers a timeless classic design
Accents large spaces
May increase property value
Can be refinished
Cons of hardwood flooring
Is not eco-friendly
Can be noisy with footsteps and creaky paneling
Is a pricier floor option
Limited to where you can install it in the house
Have other questions? Please contact us at anytime.